SBJSA is very proud to recognize and introduce our staff to you. We take pride in our employees and the certifications and training that they are required to have before working at SBJSA. All sailing instructors an staff working with our students are required to possess the following certifications:
US Sailing Level I or greater Instructor Certification

US Center for Safe Sports Training

US Sailing Power Boat Basics (Via SBJSA)

Red Cross CPR/AED Certification

Red Cross First Aid

NYS Safe Boating Certification

Complete 1 week minimum staff training at SBJSA

Completion of the SBJSA Employee Expectations Training

Completion of the SBJSA Youth Protection Policy Training
​
​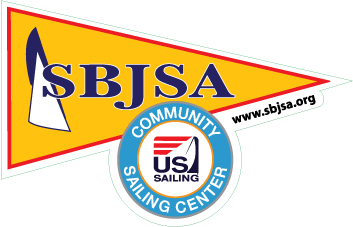 Alec Bertelli – Program Director
As SBJSA's Program Director, Alec coordinates the daily operations of our programs while leading a highly motivated group of talented instructors. Alec grew up sailing in Beverly, Massachusetts where he was the captain of his sailing team. Alec's adventurous spirit led him to live on a sailboat for a summer on the north shore of Boston where he worked as a dock master and sailing instructor. He has raced numerous boats and was previously SBJSA's Race Coach. When Alec is not sailing he serves as a Civil Affairs Specialist for the U.S. Army Reserves, is a volunteer Firefighter and is continuing his education in Political Science.
Alec is a certified U.S. Sailing instructor and a U.S. Powerboating instructor. He also holds certifications in advanced first aid, wilderness first aid and has training in water rescues and risk management. Alec believes many life lessons can be learned through the art and sport of sailing. He hopes to spread this philosophy to as many kids as possible through a community approach
Dannica Ashnault
– Asst.Program Director
As SBJSA's new Assistant Director, Dannica will be supporting the Director and Head Race coach, as well as overseeing this year's CITs. After taking a year off for medical internships, Dannica is back for her 5th year working on staff. Dannica grew up sailing at SBJSA since 2011 and raced lasers competitively. She met some of her best friends through the program. She has also raced on 8 Meter in the past.
Dannica is certified US Sailing Instructor. Dannica went to Burke Mountain Academy in Northern Vermont and recently graduated as a pre-medical Biology student with a minor in Studio Art from Boston College. She was a Division 1 ski racer for all four years of college. She is taking a post-back year in Boston before applying to a PA program for Medical School. When Dannica is not sailing she is weightlifting and bartending. She is also currently studying to be a medical scribe. She is excited to be back on the Bay for another wonderful summer!
As SBJSA's Head Race Coach, Gavin will be training and supporting the race team in regattas across the Western and Central New York region and beyond, with the help of the Assistant Race Coach. Gavin grew up in Victor and currently attends Boston College as a rising junior, with a double major in Math and Computer Science. He started sailing at the wee age of 5 and has gone on to have success racing in numerous regattas across the country. When not sailing, Gavin can be found skiing, biking, or driving his car. Gavin has worked at SBJSA for two years and worked at RYC for one year. He is looking forward to another great season on Sodus Bay!
Gavin Bloom

– Head Race Coach
As SBJSA's Assistant Race Coach, Liam will be assisting the head race coach in training and supporting our travel race team at Regattas this summer. Liam grew up in Palmyra NY where he graduated High School from. Liam will be a freshman at Auburn University in the fall where he will be majoring in business management. He has been coming to SBJSA for 10 years.
This will be his third year working as an instructor at SBJSA. He enjoys playing baseball and fishing. Liam loves SBJSA because it is like a second home to him.
Liam Doyle

– Asst. Race Coach
Billy is from Webster, New York, and is going into his senior year at Webster Schroeder High School where his favorite subject is science. He's been sailing at SBJSA since he was nine years.
This is his second year as a SBJSA employee, he was a CIT last summer and will be teaching Learn to Sail 420/Lasers this summer. When Billy is not spending time at SBJSA, he enjoys spending time outside and sail when he can at the Rochester Yacht Club.
Billy Kedley - Learn To Sail 420/Laser Instructor
Mackenzie is one of SBJSA Learn to Sail Opti Instructor. Mackenzie grew up in Rochester, NY, but have been coming to Sodus and sailing every summer for the past ten years. After experiencing the camp and learning how to sail, she decided to race for 3 years, which is where she met some of her best friends.
Mackenzie has been working at SBJSA for three years, including one year as a CIT. She is an upcoming sophomore at Penn State University, studying Biology and hoping to have a job on the water someday. Other than sailing, she loves to ski, travel, and spend time with family and friends
Mackenzie McMahon – Learn To Sail Opti Instructor
Hudson is one of SBJSA Learn to Sail 420/Laser Instructors this summer. Hudson grew up in Milton, Mass and is a rising senior at Milton High School. His favorite subject is chemistry. Hudson started sailing when he was 7 at SBJSA and has come to camp ever since! This is his second year as an instructor and third year on staff.
Outside of sailing Hudson plays lacrosse and hockey and runs cross country for his high school. He is very excited for another great year on Sodus Bay!
Hudson Smith - Learn To Sail 420/Laser Instructor
Lilly is one of SBJSA Learn to Sail Opti Instructor Lilly grew up in Fairport, NY and just graduated high school. Lilly plans to further her education at Xavier University in Cincinnati, Ohio. She started sailing at SBJSA eight years ago and raced on her high school sailing team. Lilly is a certified US level one sailing instructor and certified in US power boating.
When she's not on the water, she is dancing competitively, with friends, or working. Lilly is so excited to be returning this summer and teaching beginners the love of sailing!
Lilly Casamento- Learn To Sail Opti Instructor
Leo will be our Learn to Race Opti Instructors this summer. Leo is entering his senior year at Pittsford Sutherland high school, where his favorite subject is history. He grew up spending summers living on their family's 36 foot sailboat in the great Sodus bay and has had a love for sailing since then. Leo has raced many different boats all over the world.
This will be Leo's third year as a staff member. Outside of sailing Leo plays football and is a competitive ski racer. Leo hopes to share his love of the sport with others.
Leo Hallagan- Learn to Race Opti Instructor
Dan will be out Learn to Race 420/Laser instructor this summer. Dan is from Hyde Park, New York and a senior at F. D. Roosevelt Highschool. His favorite subject is physics. From the time he was able to walk his parents took him sailing and iceboating.
Dan has spent his summers at SBJSA ever since he was 8. He was a CIT last year and is now the Learn to Race Laser/420 Instructor. When Dan isn't sailing he's swimming or playing ultimate frisbee.
Dan Burger- Learn To Race 420/Laser Instructor
Lani is one of SBJSA Learn to Sail Opti Instructor Lani grew up in Mahopac, NY. She attends Burke Mountain Academy in northern Vermont and will be a junior this upcoming school year. Her favorite subject is science and would like to be a doctor in the future. Lani started sailing at SBJSA when she was seven.
This is her second year as a SBJSA employee, she was a CIT last summer and will be teaching Learn to Sail Opti's this summer. Outside of sailing, Lani enjoys ski racing and mountain biking.
Lani Ashnault - Learn To Sail Opti Instructor