We have two new instructors joining us this year, Ethan Coleman and Lauren Casamento. Welcome aboard!
SBJSA is proud to introduce our staff to you. We take pride in our employees and the certifications and training that they are required to have before working at SBJSA. All sailing instructors and staff working with our students are required to have the following certifications:
US Sailing Level I or greater Instructor Certification

US Center for Safe Sports Training

US Sailing Power Boat Basics (Via SBJSA)

Red Cross CPR/AED Certification

Red Cross First Aid

NYS Safe Boating Certification

Complete 1 week minimum staff training at SBJSA

Completion of the SBJSA Employee Expectations Training

Completion of the SBJSA Youth Protection Policy Training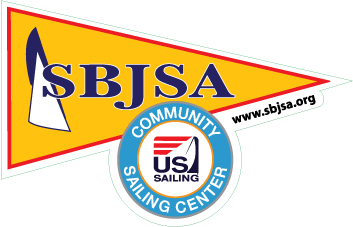 Hi everyone! My name is Mackenzie McMahon and I am the Program Director for SBJSA. I'm from Rochester, New York, and I grew up going to Brighton High School. I have spent the past three years going to college at the Pennsylvania State University, and will be graduating with a Bachelor's Degree in General Biology not too long from now! I plan to get a job in the healthcare field performing research before going to graduate school.
​
I started moving to Sodus Bay every summer in 2010, and have been sailing at SBJSA ever since. When I am not on Sodus Bay, I love to travel, play with my dog, run, and spend time with my family & friends. I have been a sailor since I was 11 years old, and have been a proud member of the SBJSA staff for five years now. My favorite thing about camp is all the amazing friends I have met and the large community SBJSA has introduced me to. I can't wait to see that community continue to grow this year with lots of new sailors!
Mackenzie McMahon – Program Director
Hi I'm Meghan Depew! I'm from Albany, NY and will be a Senior at the Florida State University this fall studying political science. I started sailing at SBJSA in 2009, and began working on staff last summer! I love being on and around the water, and my favorite part about SBJSA is all the lifelong friends I've made.
Meghan Depew - Assistant Program Director
Hello! I'm Danny and I'm the Head Race Coach this summer. I'm from Poughkeepsie, NY, and I'm going to be studying Electrical Engineering at the University of Vermont in the fall. When I'm not sailing I love to ski, swim, and surf. I started sailing at SBJSA when I was 9 and my favorite part of camp is spending time on the waters of Sodus Bay!
Danny Burger - Laser/420 Race Coach
Hi! My name is Leo Hallagan. I am from Pittsford, New York, where I attended Sutherland High school. This year I will be teaching racing and performance optis. In my free time I enjoy cruising Lake Ontario on our family's sailboat. I also enjoy racing. I have raced multiple classes of boats in many incredible places. My favorite aspect of SBJSA is the bonds and friendships I have made through the camp.
Leo Hallagan- Opti Race Coach
Hi, I'm Ethan Coleman. I've been involved with SBJSA since I was 10 years old and was a CIT last year. In the winter I like snowboarding and teach snowboarding lessons. I go to Newark CSD High School.
Ethan Coleman - Instructor
Hi, I'm David. I have spent the last 10 summers on Sodus Bay. As a 5th year instructor, I will be teaching Learn to Sail Laser and 420s. I have been sailing since I was 3 years old, and I love being on the water! I will be a junior at University of Albany this fall studying business. In my free time, I enjoy all water sports, basketball, and skiing in the winter. I am looking forward to another great summer at SBJSA!
David Meisenzahl - Instructor
Hi guys! I'm Lilly Casamento and I am from Fairport, New York. I graduated from Fairport High School in 2019 and am currently going into my junior year of college at Xavier University in Cincinnati, Ohio, where I'm majoring in marketing. In my free time I love to dance and spend time with my friends and family. This summer I will be going into my fifth year on staff and will be teaching learn to sail opti. My favorite part about SBJSA has got to be the people because I can always count on the campers and staff to put a smile on my face. Can't wait for summer 2021!
Lilly Casamento-Instructor
Hi everyone! My name is Billy, and I have been at SBJSA every summer since I was 8 years old. I will be the Adventure Sailing Instructor this summer! I am currently taking classes at MCC with a plan to transfer to a four-year University and major in Economics and Political Science. When I am not at SBJSA or doing school work, I enjoy playing sports, spending time with friends, and sailing my sunfish. I look forward to being your instructor and spending days on the water with you this summer!
Billy Kedley - Instructor
Hello everyone. I'm Lauren Casamento and I've been coming to Sodus Bay every summer for several years, and stay on Eagle Island. I sailed at SBJSA summer camp from 2011 - 2017. I go to Miami University of Ohio and study Biology and Pre-med.
Lauren Casamento, Instructor
Hi guys! I'm Lani Ashnault. I'm from Mahopac, New York but I went to high school in Vermont for the past five years. I am going to be a freshman at University of Utah next year! I hope to major in kinesiology or exercise science with a minor in nutrition. When I'm not sailing I love to ski, mountain bike and eat! I am a learn to sail opti instructor at SBJSA for the third year now, and my favorite thing about camp is definitely the people I get to work with every day!
Lani Ashnault- Instructor
Hi everyone! I grew up in Chili NY and have spent my summers living on Sodus Bay. I'm currently attending Churchville-Chili High School as a Senior and will be a Freshman at Florida Southern College in the Fall. When I was 8 years old I started camp and primarily sailed 420s. This is my 4th summer working at SBJSA and I'll be teaching Learn to Sail Opti's. When I am not sailing, I enjoy playing volleyball, playing piano, and being surrounded by friends & family. I love looking back and seeing how much the kids have grown in confidence and decision making. I look forward to another well-spent summer on Sodus Bay!
Amy Meisenzahl - Instructor
Hey guys, my name is James Wildhack, and I will be a first year instructor at SBJSA this summer. Next year, I will be a junior at Manlius Pebble Hill School where I grew up in Syracuse, NY. Some of my hobbies include sailing, golf, basketball, and snowboarding. My favorite thing about SBJSA has to be the friends I've made over all my years here.
James Wildhack - Instructor
My name is Cylas Doyle and I am a sophomore attending Pal Mac High School. I am from Palmyra, NY, but I currently live in Sodus. I will be one of you instructors this year, and have been sailing since 2013. My favorite thing to do aside from sailing is to play football, and my favorite thing about SBJSA is all the friends I have made throughout the years.