We have three new instructors joining us this year, Ethan Coleman, Madison McMahon, and Lauren Casamento. Welcome aboard!
SBJSA is proud to introduce our staff to you. We take pride in our employees and the certifications and training that they are required to have before working at SBJSA. All sailing instructors and staff working with our students are required to have the following certifications:
US Sailing Level I or greater Instructor Certification

US Center for Safe Sports Training

US Sailing Power Boat Basics (Via SBJSA)

Red Cross CPR/AED Certification

Red Cross First Aid

NYS Safe Boating Certification

Complete 1 week minimum staff training at SBJSA

Completion of the SBJSA Employee Expectations Training

Completion of the SBJSA Youth Protection Policy Training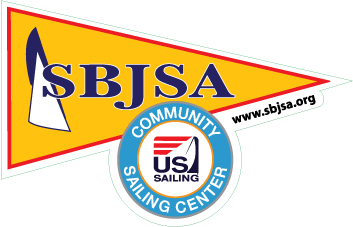 Mackenzie McMahon -

Program Director
Hi everyone! My name is Mackenzie McMahon and I am the Program Director for SBJSA. I'm from Rochester, New York, and I grew up going to Brighton High School. I just graduated from Penn State with a B.S. in General Biology and a minor in Human Development & Family Studies. In 2023, I plan to start an accelerated second-degree nursing program.
​
When I am not on Sodus Bay, I love to travel, play with my dog, run, and spend time with my family & friends. I have a cottage on Eagle Island and started moving to Sodus Bay every summer in 2010. I sailed Optis at SBJSA in 2011, and have been here ever since! I've been a proud member of the SBJSA staff for six years now - starting as a CIT in 2017, an instructor from 2018-2020, and it is now my second year as Program Director. My favorite thing about camp is all the amazing friends I have met and the large community SBJSA has introduced me to. I can't wait to see that community continue to grow this year with lots of new sailors!
Meghan Depew - Assistant Program Director
Hi I'm Meghan Depew! I'm from Albany, NY and will be a Senior at the Florida State University this fall studying political science. I grew up spending my summers on Charles Point, and started sailing at SBJSA in 2009. I began working on staff last summer as Media Coordinator and am excited to step into a new role! I love being on and around the water, and my favorite part about SBJSA is all the lifelong friends and memories I have made.
Danny Burger - Laser/420 Race Coach
Hi everyone! My name is Danny Burger and I'm one of the race coaches this year. I started attending SBJSA when I was 9 and this will be my 4th year as an instructor. I am a rising sophomore at the University of Vermont where I study electrical engineering and sail on the sailing team. I love all things water related and spend as much time in, on or around the water as I possibly can. I can't wait to see you all at camp! I'll see you on the water!
Leo Hallagan- Opti Race Coach
Hi my name is Leo Hallagan, I am one of the race coaches. This is my 6th year working at SBJSA! I recently raced in the lightning world championships in North Carolina! In my free time in enjoy all things outdoors! I will be a freshman on the ski team at Plymouth State University this fall!
David Meisenzahl - Instructor
Hi, I'm David. I have spent the last 12 summers on Sodus Bay. As a 6th year instructor, I will be teaching Learn to Sail Laser and 420s and adventure sailing this summer. I have been sailing since I was 3 years old, and I love being on the water! I will be a senior at University of Albany this fall studying business. In my free time, I enjoy all water sports, basketball, and skiing in the winter. I am looking forward to another great summer at SBJSA!
Lilly Casamento-Instructor
Hi guys! I'm Lilly Casamento and I'm from Fairport, New York. I'm going to be a senior at Xavier University in Cincinnati, Ohio majoring in marketing and minoring in entrepreneurship. My favorite part of camp is hanging out with the campers and being on the water with the rest of the staff. I will be going into my sixth year on staff and can't wait for another summer!
Billy Kedley - Instructor
Hi everyone! My name is Billy Kedley and I am from Webster, New York. I am going into my Sophomore year at SUNY Geneseo studying Political Science and Sociology. This year will be my 4th year on staff and my 12th summer sailing at SBJSA! I can't wait to get on the water with you all and enjoying the Summer weather while we have it!
Lani Ashnault- Instructor
Hey guys! My name is Lani Ashnault and I have been an instructor at SBJSA for four years now. I currently live in Salt Lake City, UT where I attend the University of Utah and study business marketing. When I'm not studying or sailing, I am usually skiing/hiking in the mountains or fly fishing in the rivers of Utah. Excited to get to know all of you this summer!
Amy Meisenzahl - Instructor
Hi everyone- I'm Amy! I grew up in Chili NY and I've spent my summers living on Sodus Bay. I go to Florida Southern College and will study abroad this fall in Switzerland. I started camp and primarily sailed 420s in 2010. This is my 5th summer working at SBJSA and I'll be teaching Learn to Sail Opti's. My favorite thing at SBJSA is when I get to watch my Opti's work together as a team. I look forward to another well-spent summer on Sodus Bay!
James Wildhack - Instructor
My name is James Wildhack, and I'm from Syracuse, New York. I'm going into my junior year of high school. This will be my second year as an instructor at SBJSA. My favorite part is the ability to be on the water with my friends. Some of my favorite hobbies include basketball and snowboarding. I'm looking forward to another great summer on the bay. I can't wait to share it with all of you!
Ethan Coleman - Instructor
Hi, I'm Ethan Coleman. I've been involved with SBJSA since I was 10 years old and was a CIT last year. In the winter I like snowboarding and teach snowboarding lessons. I go to Newark High School. And i can't wait to have a great summer at SBJSA!
Lauren Casamento - Instructor
Hi everyone! I'm Lauren Casamento and I'm from Rochester NY. I will be a sophomore at Miami University (Ohio) next year majoring in Biology and Pre medical studies. This is my first year as an instructor and I'm so excited to start! I began at SBJSA as a camper in 2011 and was a camper for 7 years. I'm so excited to be returning back because SBJSA is truly the best community and I can't wait to get on the water with everyone!
Madison McMahon, Instructor
Hello! I'm Madison McMahon and I am from Rochester New York. I am currently at Niagara University and just finished my freshman year of studying Early Childhood Grades 1-6 and Special Ed. This is my first year on staff, but I have sailed at SBJSA for 6 years. One of my favorite things about SBJSA is having fun on the water and being outside during beautiful Sodus Bay summers! I am looking forward to teaching kids how to sail and am so excited to be on an amazing team of instructors.