SBJSA YOUTH SUMMER TRAVEL RACING PROGRAMS
Note: Sailors may choose to stay in our Learn to Sail (LTS) program until age 18, or progress to Adventure Sailing (AS) or Performance Sailing (PS) until age 18, if Level 3 requirements of LTS are attained.
Similarly, sailors may stay in either the Adventure Sailing (AS) program or the Performance Sailing (PS) program through age 18. If there's a keen interest in racing, sailors may join the Travel Race Team (TRT) once they have demonstrated Level 3 competency in the Performance Sailing (PS) program's curriculum.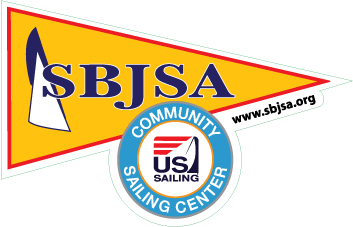 Price: $1050/3 week program
​
Prerequisites: Recommendation from Head Race Coaches
SBJSA's travel racing program is comprised of two 3-week camp sessions, known as "A" & "B". (normal camp hours)
Travel Race Team (TRT) members can register for one or both of these summer sessions, as long as they have qualified to do so, based on demonstrated ability, through the Head Race Coaches.
​
The Travel Race Team is coached by Daniel Burger and Leo Hallagan. Both Leo and Danny are US Sailing Level 2 Certified Instructors.
The TRT Program is comprised of 4 focus areas:
1. "Best practices" instruction on land and water
2. Race training and weekday intramural competition on Sodus Bay
3. Limited inter-club travel competition in the Finger Lakes area of NYS
4. Major Regional Regatta participation including: The Centrals on Sodus Regatta (SBJSA/SBYC) & the US Sailing Junior Olympics (RYC)
​
3 Week registration fee includes: Team coaching, trailers for boat transport to Interclubs and the Junior Olympics (JOs), the use of an SBJSA boat and sails at Interclubs, Centrals, JOs and our SBJSA Thursday Night Racing series.
Parents will be responsible for the transport the team members and the boats will be delivered by coaches on SBJSA supplied trailers.