YOUTH SUMMER RACING PROGRAMS
​
​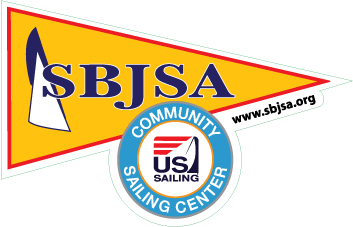 Summer Sailing and more....
SBJSA's travel racing program is comprised of two 3-week sessions, known as "A" & "B". Travel Race Team (TRT) members can register for one or both of these summer sessions, as long as they have qualified to do so, based on demonstrated ability, through the Head Race Coach. The TRT Program is comprised of 4 focus areas:
• "Best practices" instruction on land and water
• Race training and weekday intramural competition on Sodus Bay
• Limited inter-club travel competition in the Finger Lakes area of NYS
• Major Regional Regatta participation including:
The Centrals on Sodus Regatta (SBJSA/SBYC) & the US Sailing Junior Olympics (RYC)
The TRT Program at SBJSA is unique because we provide the boats for certain away regattas as part of the 3-week camp registration fee. Many other programs, in both our region and nationally, require participants to provide their own personal boat for interclub and area regatta competition. The SBJSA 3-week TRT camp registration fee, when paid in full, includes: team coaching, trailers for boat transport to Interclubs and the Junior Olympics (JOs), the use of an SBJSA boat and sails at Interclubs, Centrals, JOs and our SBJSA Thursday Night Racing series. Note that TRT members are assigned a boat, with all its gear and sails, for their camp session and they are fully responsible for it being returned intact and in good condition, with all equipment accounted for.
In preparation for the two major regional regattas, the TRT will train with the Learn to Race (LTR) program campers on select weekdays, as part of normal camp activities. The TRT will then travel to select area interclub regattas in the Finger Lakes area on either Tuesdays (Laser/420s) and/or Wednesdays (Optis) in most weeks.
For additional details, including expectations of TRT members and parent volunteering that is essential, please refer to the Travel Race Team section in our annual Parent Handbook, by clicking on the button in the left margin of this page.