Contact Us
​
BOARD OF DIRECTORS
Sodus Bay Junior Sailing Association is led and managed by a 100% volunteer Board of Directors that includes (4) Flag Officers and (9) Directors, each with specific oversight responsibilities. The Board meets monthly on the 2nd Tuesday from 7-9 pm.
​
We work as a team to develop and implement strategies & specific initiatives to continually improve the scope and content of our physical assets, educational programs and outreach.
​
The 13 Board positions and those who currently fulfill them are:
​
Flag Officers
President & Board Chairman: Hank Stuart
Vice President: Ed St. George
Treasurer: Bill Kedley
Secretary: Deb Reisch
​
Executive Director: Laurie Alverio
Directors
Director of Community Boating: Open
Director of Curriculum: Lee Ann Zaretsky
Director of Facilities & Grounds: Dave Pennington
Director of Fleet: Mike Foley
Director of Fundraising Events: Helen Buzzell
Director of Giving & Donor Relations: Open
Director of Marketing & Communications: Doug Clapp
Director of Racing: Open
Director of Staffing: Alec Bertelli
​
General Information: Info at SBJSA
​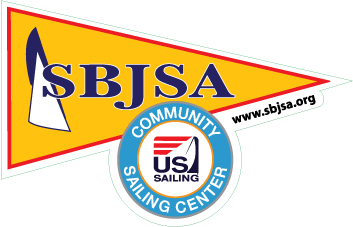 SBJSA Inc.
7433 Clover Street
P.O. Box 117 ,
Sodus Point, NY 14555
Phone: (315) 483-8883