BOARD OF DIRECTORS
Sodus Bay Junior Sailing Association is led and managed by a 100% volunteer Board of Directors that includes (4) Flag Officers and (9) Directors, each with specific oversight responsibilities. The Board meets monthly on the 2nd Tuesday from 7-9 pm.
​
We work as a team to develop and implement strategies & specific initiatives to continually improve the scope and content of our physical assets, educational programs and outreach.
​
The 13 Board positions and those who currently fulfill them are:
​
Flag Officers
President & Board Chairman: Hank Stuart
Vice President: Ed St. George
Treasurer: Bill Kedley
Secretary: Deb Reisch
​
Executive Director: Laurie Alverio
Directors
Director of Community Boating: Open
Director of Curriculum: Lee Ann Zaretsky
Director of Facilities & Grounds: Dave Pennington
Director of Fleet: Open
Director of Fundraising Events: Helen Buzzell
Director of Giving & Donor Relations: Open
Director of Marketing & Communications: Douglas Clapp
Director of Racing: Open
Director of Staffing: Alec Bertelli
​
General Information: Info at SBJSA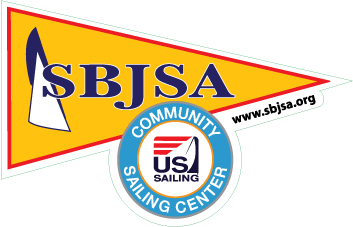 SBJSA Inc.
7433 Clover Street
P.O. Box 117 ,
Sodus Point, NY 14555
Phone: (315) 483-8883
Retired from financial services and life long sailor on Sodus Bay. Former SBJSA student and instructor. Active with race management and competitive sailing. Married to Megan Stuart. Father to two grown children and grandfather of six.
Ed St. George - Vice President
I've been sailing since I moved to Rochester in 1974 and, as a member of SBYC in the late 70s, raced every weekend thereafter on a variety of keelboats for over 25 years, including regattas in several other States, the Virgin Islands and Bermuda. After the good fortune of retiring at age 58 in 2010, I was invited by my good friend Mike Foley to join the SBJSA Board as Treasurer a year later. I've had the pleasure of being involved ever since, including as President from 2015-2020. It's a privalege to be associated with everyone at SBJSA to help build lifelong boaters, including fellow Board members, our terrific instructional staff, a variety of helpful volunteers and, most importantly, all the great kids I've met along the way!
Bill and his wife, Karen, have been full-time residents of Sodus Point since 2016. Prior to that they lived and worked in the Rochester/Penfield area. Bill is a retiree of Harris Beach, the law firm, after more than 30 years of service in various administrative capacities. In Bill's earlier career he worked at a national CPA firm in the Chicago and Rochester offices.
Lee Ann Zaretsky - Director of
Curriculum
When Lee Ann Zaretsky isn't racing her J/24 or Ideal 18 sailboats, she's teaching K-5 Literacy for Penfield Central Schools or working as an adjunct professor with SUNY Brockport in the Graduate School of Education and Human Development. Spanning 35+ years of service, Lee Ann's career path includes serving as an elementary principal, classroom teacher, district ELA Coordinator, staff development trainer, lead teacher, enrichment specialist, and differentiation coach. She worked in Spencerport and Holley, New York, Greensboro, North Carolina, and Plano, Texas. Presently, Lee Ann serves as Treasurer and Past President of the Rochester Area Literacy Council. Lee Ann holds a Master of Science in Literacy Education and a Master of Science in Elementary Education from Nazareth College, a Master of Science in Educational Leadership from SUNY Brockport, and a Bachelor of Science in Elementary Education from the University of Texas. She is the recipient the 2004 Presidential Award for Excellence in Teaching for New York State and the 2016 NYS Reading Association's Service Award. In her spare time, she loves to garden, ski, bike, and travel. Most of all, Lee Ann is passionate about sailing and racing her sailboats. She's competed in local, national, and world events with her all female racing team on her J/24, Lady MINX.
Dave Pennington - Director of Facilities and Grounds
Helen Buzzell - Director of Fundraising Events
Douglas Clapp - Director of Marketing & Communications
Doug joined the SBJSA board in December 2021 as Director of Marketing and Communications. He learned to sail at SBJSA a very long time ago. Though records have long since been lost and no photographic evidence has been found, there are stories about him crewing for Hank Stuart in the Leeland Lee race circa 1969. Doug currently resides on Sodus Bay full time. In the winter months he is a ski instructor at Bristol Mountain.
Alec Bertelli - Director of Staffing
As SBJSA's Board Staffing Director, Alec is responsible for the oversight of hiring, training, coaching and mentoring SBJSA staff. Alec first learned how to sail in the harbor known as the birthplace of Washington's first Navy (Beverly, MA) on a dinghy sailboat called a Pixel. Alec has a decade of experience instructing, racing sailboats and leading community boating organizations.

Alec has a strong passion for community spirit, youth development and servant leadership. He believes many life lessons can be learned through the sport of sailing and he shares the mission and commitment to give more kids access to the water and Sodus Bay, which is why he volunteers on the Board. He is also one of the founding members of the Sailorship committee.

Alec is currently stationed in the D.C. area proudly serving on active duty for the United States Army. Alec's civilian education is concentrated in Political science, supplemented by his professional military education in civil information management, diplomacy, and foreign humanitarian assistance. Alec has also attended the Army's NCO leadership academy. He enjoys traveling, reading history, drinking coffee, volunteering and being on the water.