YOUTH SAILING CAMP (KIDS)
​
The core instructional program we offer at SBJSA is our youth sailing camp, which is conducted over a 7-week timeframe from approximately near the end of June to mid-August. This seven week period is comprised of the following camp sessions available to youth, ages 8-18:
1-week (5 days), ½ day "Opti-Boomers".

2-week (10 days), all Learn to Sail (LTS) and Learn to Race (LTR) sessions, including our new Adventure Sailing (AS) pilot program under the LTR category.

3-week (17 days) Travel Race Team sessions.

2-day "Intro to Sailing" courses for area Town Recreation Program students, Boy or Girl Scout groups and/or other organized groups of children, given in the final 1-week of camp in approx. mid-August.
​
SBJSA's summer camp curriculum and a dedicated instructional staff of young people (many of whom went through the SBJSA summer camp experience themselves), is focused on achieving the goal of growing lifelong sailors and boaters, with a combination of well-rounded instruction that's suited to students' pace of learning and a heavy dose of FUN so that kids don't suffer "burn-out" in our sport.
​
Our Program Director and staff work closely with parents to place kids in the right program at SBJSA, as well as the right skill level within that program. We consider age, approximate weight (so that the appropriate sailboat is used), level of sailing experience, demonstrated skill level, desire to compete or not, etc., all aimed at ensuring that we help kids reach the sailing goals they're both interested in and capable of.
​
More detailed information can be found in our annual Parent Handbook, which you can refer to by clicking on the button in the right margin of this page.
​
​
​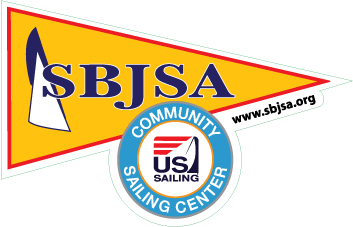 Summer Sailing and more....
​Opti-Boomers is designed to meet the needs of new sailors, usually 8 or 9 years old, who are perhaps anxious or otherwise uncomfortable getting started. It is a week of half days, 9:30-noon, for an introduction to sailing. Students may sign up for as many weeks as they like. If a new camper quickly finds, like most kids do, that sailing is fun and SBJSA is their camp, then we allow parents/guardians to sign-up their kid(s) for a whole session or more of regular, all-day LTS camp. Either way, we want campers to get started and enjoy camp at a pace that fits them best.
Summer Sailing and more....
​Learn to Sail (LTS) is the camp foundational course to sailing and being on the water, ages 8-18. All campers will be instructed in the Optimist Pram, Laser and 420 sailboats, depending on their age, weight and progression through our curriculum. All campers will also participate in our Paddlecraft program, which includes instruction in the care and safe use of kayaks, canoes and stand-up paddleboards. There are 4 skill levels within LTS. A camper may spend several season to complete the entire LTS program through Level 4, or choose to move on to Learn to Race after Level 3.
Summer Sailing and more....
Learn to Race (LTR) is the camp program that introduces sailors to a variety of competitive sailing activities, ages 10-18. The LTR Program is based on an intramural racing program that includes the fundamental rules of sportsmanship. The LTR program also includes the paddlecraft program mentioned above. For 2019, we're piloting a new Adventure Sailing program for teens, age 13-18, that are not really interested in racing. The new program includes sailing in the Lake in waves, learning how to sail our Hobie cats and O'Day 19, as well as other topics that will build boat handling skills and are fun! Use the LTR registration form and make a note on the form if your child is interested in the Adventure Sailing program and wants to participate. Session dates and cost are the same.
Summer Sailing and more....
SBJSA's travel racing program is comprised of two 3-week sessions, known as "A" & "B". Travel Race Team (TRT) members can register for one or both of these summer sessions, as long as they have qualified to do so, based on demonstrated ability, through the Head Race Coach. The TRT Program is comprised of 4 focus areas:
• "Best practices" instruction on land and water
• Race training and weekday intramural competition on Sodus Bay
• Limited inter-club travel competition in the Finger Lakes area of NYS
• Major Regional Regatta participation including:
The Centrals on Sodus Regatta (SBJSA/SBYC) & the US Sailing Junior Olympics (RYC)
The TRT Program at SBJSA is unique because we provide the boats for certain away regattas as part of the 3-week camp registration fee. Many other programs, in both our region and nationally, require participants to provide their own personal boat for interclub and area regatta competition. The SBJSA 3-week TRT camp registration fee, when paid in full, includes: team coaching, trailers for boat transport to Interclubs and the Junior Olympics (JOs), the use of an SBJSA boat and sails at Interclubs, Centrals, JOs and our SBJSA Thursday Night Racing series. Note that TRT members are assigned a boat, with all its gear and sails, for their camp session and they are fully responsible for it being returned intact and in good condition, with all equipment accounted for.
In preparation for the two major regional regattas, the TRT will train with the Learn to Race (LTR) program campers on select weekdays, as part of normal camp activities. The TRT will then travel to select area interclub regattas in the Finger Lakes area on either Tuesdays (Laser/420s) and/or Wednesdays (Optis) in most weeks.
For additional details, including expectations of TRT members and parent volunteering that is essential, please refer to the Travel Race Team section in our annual Parent Handbook, by clicking on the button in the left margin of this page.