YOUTH SUMMER SAILING CAMP
​
The core instructional program we offer at SBJSA is our youth sailing camp, which is conducted over a 7-week timeframe from approximately near the end of June to mid-August. This seven week period is comprised of the following camp sessions, available to youth ages 8-18:
​​
1-week (5 days), all day Learn-to-Sail (LTS), Performance Sailing (PS) and Adventure Sailing (AS) sessions.

1-week (5 days) 1/2 day beginner Opti "Boomers" sessions.

3-week (17 days) Travel Race Team sessions.

5-day "Intro to Sailing" course for area School District and Town Recreation Program students, Boy or Girl Scout groups and/or other organized groups of children, given in the final 1-week of camp.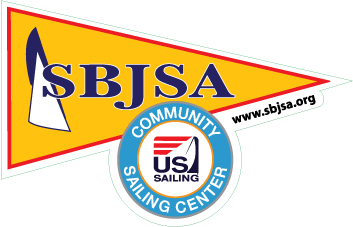 ​Opti-Boomers is designed to meet the needs of new sailors, usually 8 or 9 years old, who are perhaps anxious or otherwise uncomfortable getting started. It is a week of half days, 9:30-noon, for an introduction to sailing. Students may sign up for as many weeks as they like. If a new camper quickly finds, like most kids do, that sailing is fun and SBJSA is their camp, then we allow parents/guardians to sign-up their kid(s) for a whole session or more of regular, all-day LTS camp. Either way, we want campers to get started and enjoy camp at a pace that fits them best.
Learn to Sail (LTS) is the camp foundation to sailing and being comfortable in the water, ages 8-18. All campers will be instructed in the Optimist Pram, the Laser and the 2- person Club 420 sailboat depending on their age, weight and progression through our curriculum.
​
All campers will also participate in our paddle craft program, which includes instruction in the care and safe use of kayaks, and stand-up paddle boards.
​
PLEASE KEEP IN MIND THAT FOR OUR LTS PROGRAM WE HIGHLY RECOMMEND SIGNING UP FOR TWO CONSECUTIVE WEEKS IN ORDER TO GET THE BEST LEARNING EXPERIENCE, ESPECIALLY FOR NEW SAILORS.
Price: $325/Week
Sailorships Available
​
No Prerequisites
​
Performance sailing is the next step to advanced boat handling and a path toward competitive sailing. If the student would like to eventually join our race teams this is the path. Students will train in Optimists, Lasers, and 420s, and may wish to join the travel race teams after at least two weeks of Performance sailing.
Instruction in tactics, sail trim, boat handling, mark rounding, the Rules of Racing and practice races.
The PS program also includes our established paddle craft program.
Weight and height restrictions apply to specific boats.
​
Click the button to register your child in the SBJSA Summer Program.
​
Prerequisite: Successful completion of Learn to Sail
​
Price: $325/Week
​
After the basic LTS Learn to Sail series the next step for non competitive activities is Adventure Sailing.
Gives campers the opportunity to further build skills and experience in a wide variety of boats.
Sailing in the Lake, proper anchoring techniques, how to correctly secure a boat to a dock, basic navigation and other skills are taught in a variety of boats in our fleet, including Lasers, 420s, Hobie Cats, an O'Day 19, Lightning and SBYC Ideal 18s.
The goal is increased skill and knowledge across a range of subjects to grow/maintain interest in our sport and have plenty of fun in the process!
Weight and height restrictions apply to specific sailboats.
Follow the link below to register your child in the SBJSA Summer Program.
​
Prerequisite: Completion of a combination of LTS Opti/Laser/420 Students must be able to demonstrate Learn to Sail knowledge​
​
Price: $325/Week,
​