YOUTH SUMMER SAILING CAMP
​
The core instructional program we offer at SBJSA is our youth sailing camp, which is conducted over a 7-week timeframe from approximately near the end of June to mid-August. This seven week period is comprised of the following camp sessions, available to youth ages 8-18:
1-week (5 days), ½ day "Opti-Boomers".

2-week (10 days), all day Learn-to-Sail (LTS), Performance Sailing (PS) and Adventure Sailing (AS) sessions.

3-week (17 days) Travel Race Team sessions.

2-day "Intro to Sailing" courses for area School District and Town Recreation Program students, Boy or Girl Scout groups and/or other organized groups of children, given in the final 1-week of camp, approx. mid-August.
PROGRAM PROGRESSION
DIAGRAM (CLICK TO DOWNLOAD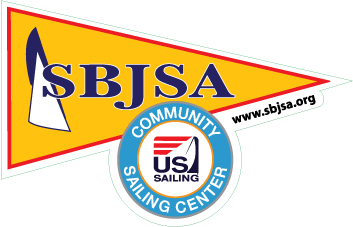 Summer Sailing and more....
​Opti-Boomers is designed to meet the needs of new sailors, usually 8 or 9 years old, who are perhaps anxious or otherwise uncomfortable getting started. It is a week of half days, 9:30-noon, for an introduction to sailing. Students may sign up for as many weeks as they like. If a new camper quickly finds, like most kids do, that sailing is fun and SBJSA is their camp, then we allow parents/guardians to sign-up their kid(s) for a whole session or more of regular, all-day LTS camp. Either way, we want campers to get started and enjoy camp at a pace that fits them best.
Summer Sailing and more....
Learn to Sail (LTS) is the camp foundation to sailing and being comfortable in the water, ages 8-18. All campers will be instructed in the Optimist Pram, the Laser and the 2- person Club 420 sailboat depending on their age, weight and progression through our curriculum (see previous page). All campers will also participate in our paddlecraft program, which includes instruction in the care and safe use of kayaks, stand-up paddleboards and canoes. There are 4 skill levels within LTS. A camper may spend several seasons to complete the entire LTS program through level 4, or choose to move on to Performance Sailing or Adventure Sailing after Level 3 completion. Weight and height restrictions apply to specific sailboats.
Summer Sailing and more....
Performance Sailing (PS) is the camp program designed for sailors who want to build upon their overall sailing skills and also explore their potential interest in racing. Sailors in this program are ages 11-18, who have successfully completed Level 3 of the LTS program above. Within the PS program's curriculum, using our Optimist Prams, Lasers and 420 sailboats, there is instruction in tactics, sail trim, boat handling, mark rounding, the Rules of Racing and practice races. Performance Sailing will also include some of the topics covered in Adventure Sailing (described below) and time spent in other boats for fun, like our Hobie Cats, O'Day 19 and Lightning. The PS program also includes our established paddlecraft program. Weight and height restrictions apply to specific boats.
Summer Sailing and more....
Adventure Sailing (AS) is the camp program that introduces sailors to a diversity of non-competitive sailing and paddlecraft activities, ages 13-18, and also the opportunity to further build skills and experience in a wide variety of boats. Sailing in waves in the Lake, proper anchoring techniques, how to correctly secure a boat to a dock, basic navigation and other skills are taught in a variety of boats in our fleet, including Lasers, 420s, Hobie Cats, an O'Day 19, Lightning and SBYC Ideal 18s. The AS program also includes the paddlecraft program. On a daily basis, AS instructors are able to balance wind/weather conditions, type of sailing, boats to be sailed and the interests of enrolled campers to determine what activity will be pursued that day. The goal is increased skill and knowledge across a range of subjects to grow/maintain interest in our sport and have plenty of fun in the process! Weight and height restrictions apply to specific sailboats.
Summer Sailing and more....
SBJSA offers a special 2-day "Intro to Sailing" class that is open to area youth through local Town Recreation Department summer programming. In Town Rec published summer program catalogs from Williamson, Sodus, Newark and other area towns, you'll see our SBJSA "Intro to Sailing" class available and registration instructions are included too. Classes are provided on Monday & Tuesday, as well as Wednesday & Thursday (2 consecutive weekdays) during camp session 4. No prior sailing experience of any kind is needed.
​
In 2020, the cost of our "Intro to Sailing" class is $140 and classes will only occur during the week of August 10th . Session 4A is 8/10 & 11 and Session 4B is 8/12 & 8/13. You'll spend a full 2 days with our experienced, trained instructors who will show you the basics of sailing and give you a taste of what sailing is all about, including lots of time out on-the-water! Unless you're an exceptionally fast learner, you won't be able to sail a boat entirely on your own after completing this class, but you'll certainly get a good idea of whether you like the sport and want to learn more!