COMMUNITY BOATING
​
Our primary mission at Sodus Bay Junior Sailing Association is ACCESS and EDUCATION: (1) access for everyone in our area communities to enjoy the water on a boat and (2) educational programs to enable folks to learn/build sailing and boating skills for a lifetime, their connection to science and technology and also become more appreciative of our precious aquatic environment.
Our summer youth sailing and boating instructional programs have been the longstanding core of our educational mission for decades. Thousands of young people of many ages and backgrounds have enjoyed and benefitted from the SBJSA experience since the organization was founded in 1956.
​
More recently, we've expanded access and use of our boats, facilities and equipment to a much wider cross section of the public, across all ages. Rather than the higher, all-inclusive fee structure used in 2018 for our Community Boating (CB) program, this year we're making it easier and less expensive to join and only use the boats you're interested in via an "ala carte" fee system.
When you or your family become SBJSA Community Boating Members for just $20 or $50 (respectively), you're eligible to have access and use of our very capable fleet of Opti, Laser, 420 and Hobie Cat sailboats, plus our fleet of paddle watercraft (kayaks, standup paddleboards, canoes and rowing shells), for very modest additional fees during specific CB operational hours over the summer. Not sure if CB is for you? Want to try a boat or kayak before you join? We also offer special rates to come try boats in our fleet for just a day to see if membership makes sense for you. At the end of that day, if you do conclude that you'd like to join and use our boats, all fees paid for the trial day will be credited towards a full season of membership and the type(s) of boat(s) you choose to select.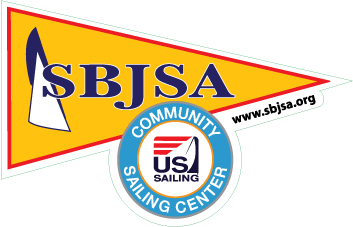 CB individual membership
CB family membership
​
As a CB member, you're also able to tap into our expanding instructional programs to build and/or refine your skills, which can enable you and/or your family members to enjoy the water even more. For Community Boating course offerings, schedule and registration details, please visit the "Adult Programs" links on this page.
​
For members who may already own a kayak, canoe, or stand-up paddleboard, you may store your watercraft in a designated location on our property for a very low seasonal fee, at your own risk and on a first come-first serve basis. There is a limit of (1) stored paddlecraft per individual member and (2) for a family membership. Storing your own boat on-site enables you to use it anytime it's convenient for you! A membership sticker for your stored boat and/or your car will be provided, along with a membership card.
​
In order to utilize sailboats within our fleet, you must pass a simple qualification process to determine that you have adequate skills for that particular boat (ie – Laser, 420, Hobie catamaran, etc). If you don't have enough skill or knowledge, you will be asked to take a 2 hour refresher/orientation course for that boat, or perhaps a longer and more comprehensive Learn-to-Sail course to help you with the fundamentals. See the on-duty Community Boating "Officer of the Day" (the CB-OOD) for details on how to become qualified for sailboat use once you become a member.
​
SBJSA Community Boating members are also invited and encouraged to use one of our designated sailboats (if qualified in advance) and participate in SBJSA's informal and fun Thursday Night Racing Series for no additional boat usage fee! Only cost is the $5/week entry fee that all participants pay. See the "Thursday Night Racing Series" page (under the "Regattas" menu header on our website) for the schedule and other details.
​
.Please contact our Board Director of Facilities, Dave Pennington, for further details at: penmiz@gmail.com.
​