COMMUNITY BOATING
​
After decades of operating a successful youth sailing camp since our founding in 1956, over the last couple of years we've expanded access and use of our boats, facilities and equipment to a much wider cross section of the public, across all ages. When you become an annual SBJSA Community Boating (CB) Member for just $20 (individual) or $50 (family), you're eligible to have access and use of our very capable fleet of Opti, Laser, 420 and Hobie Cat sailboats, plus our fleet of paddle watercraft (kayaks, standup paddleboards, canoes and rowing shells), for very modest additional fees during specific CB operational hours over the summer. Not sure if CB is for you? Want to try a boat or kayak before you join? We also offer special rates to come try boats in our fleet for just a day to see if membership makes sense for you.
As a CB member, you're also able to tap into our expanding adult instructional programs to build and/or refine your skills, which can enable you and/or your family members to enjoy the water even more. As a result of the coronavirus pandemic, please note that we've expanded our Community Boating instructional program offerings this year to include family children, not just adults. Please note that kids under the age of 18 must be accompanied by a parent or responsible adult over 18 during Community Boating operational hours, unless they are enrolled in a CB youth program class. For all CB course offerings, schedule and registration details, please visit the "CB Adult Programs" or "CB Youth Programs" pages in this section of the SBJSA website.
For members who may already own a kayak, canoe, or stand-up paddleboard, you may store your watercraft in a designated location on our property for a very low seasonal fee, at your own risk and on a first come-first serve basis. There is a limit of (1) stored paddlecraft per individual member and (2) for a family membership. Storing your own boat on-site enables you to use it anytime it's convenient for you! A membership sticker for your stored boat and/or your car will be provided, along with a membership card.
In order to utilize sailboats within our fleet, you must pass a simple qualification process to determine that you have adequate skills for that particular boat (ie – Laser, 420, Hobie catamaran, etc). If you don't have enough skill or knowledge but you'd like to learn, we have a comprehensive Learn-to-Sail course to help you with the fundamentals. See the on-duty Community Boating "Officer of the Day" (the CB-OOD) for details on how to become qualified for sailboat use once you become a member.
SBJSA Community Boating members are also invited and encouraged to use one of our designated sailboats (if qualified in advance) and participate in SBJSA's informal and fun Thursday Night Racing Series for no additional boat usage fee! Only cost is the 2020 $10/week entry fee that all participants pay. See the "Thursday Night Racing Series" page (under the "Regattas" menu header on our website) for the special 2020 schedule and other details.
In addition, SBJSA Community Boating members are eligible to reserve and utilize our buildings for a private party or function you'd like to hold on our property, whether in the CH Stuart Foundation Sailing Center, the Marcus X. Costich Pavilion, or under a tent you rent and have installed. Depending on the size of the function and number of people involved, a variable donation fee to SBJSA applies. Please note that because of coronavirus pandemic restrictions and health/safety, we are unable to offer private use of our facilities in 2020.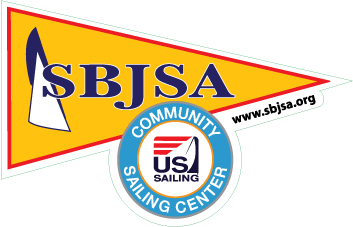 CB individual membership
CB family membership
​
Revised SBJSA Community Boating Operation Schedule, 2020:
Between Wednesday July 1st and Saturday August 15th, we're open weekly on Wednesday, Thursday and Friday evenings from 5 - 8:30 pm, and Saturdays and Sundays 10am - 4pm. SBJSA staff and/or adult volunteers, acting as the CB "Officer of the Day", will be on-hand to assist you.
Please note that CB members must call ahead to SBJSA (315-483-8883) before 3 pm on weekdays and 9 am on weekends in order to: (1) ensure that staff will be on-hand, (2) to reserve a time and the boat(s) you prefer, (3) enables us to sanitize and prepare your boat(s) prior to arrival, and (4) so that we can schedule folks and not exceed our requirement that no more than 21 people shall be on-site at SBJSA at any time.
Click on the Individual or Family Plan buttons in the Community Boating (CB) section of our website to see our very modest 2020 CB membership and boat usage fee structure for Individuals or Families, as well as the registration process. Check out all our 2020 program offerings for Adult and Youth on separate web pages in this CB section as well.
You can register on-line for membership and courses and make payment, or do so in-person during our Community Boating operational hours. We look forward to your support and enjoyment!
​
​
​
NOTE: TO PARTICIPATE IN ADDITIONAL ELECTIVE PROGRAMS, YOU MUST REGISTER FOR COMMUNITY BOATING (EITHER INDIVIDUAL OR EXTENDED FAMILY PLAN)
(once you have registered the options are available to view)
​