After decades of operating a successful youth sailing camp since our founding in 1956, over the last several years we've expanded access and use of our boats, facilities and equipment to a much wider cross section of the public, across all ages.
As an independent 501c3 Sailing Program, SBJSA has experienced overwhelming support from it's alumni and community. The next logical progression was for us to expand our educational facility to the community at large. We worked through the process to become a nationally accredited community sailing and boating center, the only one is Upstate New York! Accreditation insures that SBJSA Community Boating adheres to a national standard for community sailing programs. Accredited programs use US Sailing certified instructors, have detailed emergency and safety procedures, use curricula that meet US Sailing's teaching standards, and are properly insured.
​
Please review our Community Boating Offerings on the next pages in this section.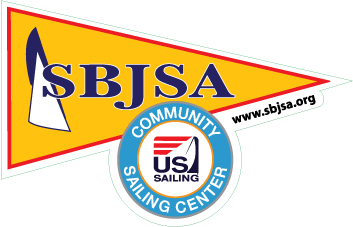 CB individual membership
CB family membership
​
The community boating center is:
Open to the public for education and waterfront access

Offers classes in boat handling and safety both power and sail boats.

Has 3 levels of membership for both individuals and families

Membership is NOT necessary to sign up for classes

Membership IS necessary to access PaddleCraft, Sailboats, Rowing Shells and Attendance for Social Events.

Registration is online only.
​
View the Membership Levels, the Course Offerings, and Youth Offerings using the menu above.
The community boating center
Wonderful campus with the following:

18 Collegiate Club 420 Sailboats used for our High School and College Programs​

6 Regatta ready Club 420 Sailboats rigged for spinnaker and performance sailing

2 Hobie Cat Sailboats

A variety of Single and Double Handed Kayaks

3 Rowing Shells

20 Laser Sailboats

20 Optimist Prams

3 Boston Whaler Safety and Boat Handling Instruction Boats

1 17ft Rigid Inflatable Coach Boat

2 Instructional Keelboats (more coming)

Beach launch area

Waterfront instructional pavilion

The C.H. Stuart Foundation instructional center with classrooms, sail loft, library, and multimedia access.

Showers, heads, staff room, workshop, sail and equipment storage.