All new SBJSA registration process.
The registration process for 2020 and going forward will be facilitated by an online program that will have many advantages for SBJSA, parents, and community boating clients. Some of the key features will include:
​Electronic registration

A parent portal for updates and multi purchase options

A storefront shopping experience

Secure collection and storage of student medical and insurance information

Text and email alerts messages for parents and campers

A camp attendance program

All program descriptions and registrations in one place.

Class registration for Community boating

Water craft reservations

Family registrations and multi-child discounts

Payment plans

Credit card, cash or check payments.

Multi level and multi platform communication portals.
​
The SBJSA Board of Directors has been working toward this process for several years and we think that we finally have our programs, offerings, and software research to the point where this will streamline the process and make the experience more satisfying for all.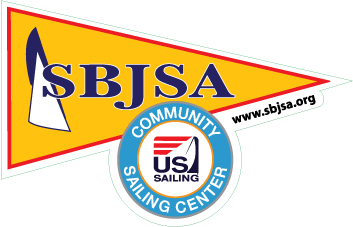 CALENDAR
​
​
Mar 28 - May 2………….…...…RIT Collegiate Spring Practice Season
May 17 - 20………………….....USSA Level 1 Instructor Course @ RYC
June 1 - Aug 15…………..…....Adult Community Boating Instructional Programs (Mon, Tues, Wed evenings)
June 5 - 7…………………...…..USSA Level 1 Instructor Course @ SBJSA
June 13…………………...…….Community Open House (11am - 2pm)
June 13…………………..….….Friends & Supporters Reception (3:30pm - 5pm)
June 15………………….…..….Max Buzzell Memorial Golf Tournament Fundraiser
June 20……………………...….NYS Safe Boating Certificate Course @ SBJSA
June 22 - 27………………….…Camp Prep Week & Staff Training (incl. 1st Responder Live Drill)
June 24 - Aug 15…..………..…Community Membership Open Boating (weekly, Wed-Fri 6-8:30 pm, + Sat 10-4)
June 26…………………..….….Powerboat Handling Refresher Training for staff at SBJSA
June 28…………………..….….Annual Pancake Breakfast Fundraiser #1
June 28………………………….Parent Orientation, Camp Session #1 & TRT Session A (1 pm)
June 29 - July 10……..….….…LTS/AS/PS Camp Session #1
June 29 - July 17……….…...…Travel Race Team, Session A
July 2, 9, 15 (Wed), 23 & 30...…Thursday Night Racing Series in July
July 3……………………………Annual SBJSA Alumni Regatta
July 10…………………………..Interclub Regatta at SBJSA
July 11 - 12…………….….……Centrals on Sodus Regatta
July 12…………………………..Parent Orientation, Camp Session #2 (6 pm)
July 13 - July 24………….…….LTS/AS/PS Camp Session #2
July 16……………………….….Annual Family BBQ Fundraiser & Big Boat Day
July 19……………………….….Parent Orientation, TRT Session B (6 pm)
July 20 - Aug 7……………..…..Travel Race Team, Camp Session B
July 26………………………..…Parent Orientation, Camp Session #3 (6 pm)
July 27 - Aug 7……………..…..LTS/AS/PS Camp Session #3
Aug 1………………………..…..Pancake Breakfast Fundraiser #2 (8am - 11am)
Aug 1 - 2…………………….….Junior Olympics Regatta, RYC
Aug 6……………………..…….Thursday Night Racing Series (continued in August)
Aug 10 - 13……………….…....Camp Session #4 (incl Schools & Town Rec Programs) & Camp Closing
Sept 12, 19, 26 & Oct 3….…...SBJSA Middle & High School Fall Sailing Program
Sept 12 – Oct 31………….…...RIT Collegiate Fall Practice Season
​
​