CB YOUTH PROGRAMMING
​
SPECIAL 2020 CB PROGRAMS for YOUTH:
Given the very unusual pandemic circumstances this year and the resulting significant changes we had to make to our regular daytime weekly camp programs, we've the added the following weekday evening and weekend class offerings exclusively for kids that are part of a Community Boating Family Membership (see "CB Family Plans" in this section of our website for membership details). Please note that for 2020, students in the programs below will be sailing singlehanded (except in the case where there are 2 from the same household, enabling doublehanded sailing). In order to attend, participants must reside in the Finger Lakes region for a minimum of 14 days, COVID-19 symptom free, before coming to SBJSA premises.
All of the offerings below require advance registration via the link button under each course description, along with a call to our Program Director (315-483-8883) to firm up a mutually workable schedule between you and our available instructor:
NOTE: TO PARTICIPATE IN THESE PROGRAMS, YOU MUST REGISTER FOR COMMUNITY BOATING (EITHER INDIVIDUAL OR EXTENDED FAMILY PLANS)
(once you have registered the options are available to view)
A. Instruction in Learning to Sail Opti, Laser and 420 (1:1 or 1:2 for 2 people in same household), age 10-16. Choose a weekday evening Wed-Fri, and/or weekend time slots by appointment, subject to instructor availability. Be sure to bring your own face covering and lifejacket.
Cost: $30/hour per person.
B. Opti Beginner (Age 7 – 9): Similar to our traditional "Opti Bloomer" class offered in our traditional summer camp and designed for kids who are hesitant around the water. Kids will learn the basics of Opti sailing. Sessions will be held for 2 hours/session (weeknights or weekend) by appointment, subject to instructor availability. (Max Session = 4 kids). Be sure to bring your own face covering and lifejacket.
Cost: $35/session per person, or $150 per person for 5 sessions
C. Performance Racing: Structured after our Youth Racing Program. Available for more experienced Opti, Laser (singlehanded) and 420 (2 people same household) sailors and our Travel Race Team students. Practice racing techniques, fly a spinnaker and match racing if in a group setting. 2 hr sessions on weeknights and/or weekends by appointment, subject to instructor availability. Can be conducted as a 1:1 private session or as a group event (Max Session = 6 Kids). Be sure to bring your own face covering and lifejacket
​
Cost:$40/session per person, or $175 per person for 5 sessions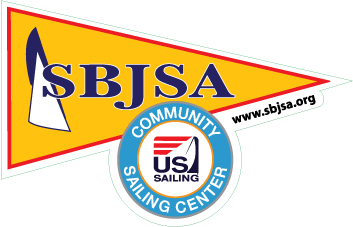 CB individual membership
CB family membership
​