FALL MIDDLE/HIGH SCHOOL SAILING
​
All you need is your own properly fitting lifejacket (if you don't have one, we'll provide it at no cost). We'll provide the rest…the boats, sails and all the other equipment needed!
Regardless of a student's sailing ability or experience, a school team can be formed by just 2 students, from the same school, who want to participate in our fall program and represent their school, whether they have zero experience in a sailboat or not! It's a club team by definition, not a JV or Varsity team, but it's a team nonetheless and it can be fun to represent your school! Once at least 3 teams are formed within our SBJSA fall program and the students involved learn how to sail and might like some friendly competition, we will conduct informal racing for fun. If at least 2 teams (4 students) from the same school have enough ability and desire, they can also go on and compete, if they wish, in racing competition against other teams from schools outside Wayne County and beyond, as part of the National Interscholastic Sailing Association (additional fees would apply). It's all up to the students in our program!
​
Contact SBJSA Program Director Alec Bertelli (alec.sbjsa@gmail.com) if you have any questions.
​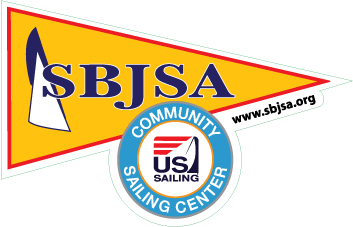 FALL MIDDLE/HIGH SCHOOL SAILING
Summer Sailing and more....
Our annual Middle & High School Fall Sailing Program at SBJSA is designed to provide recreational sailing and instruction to newcomers to the sport, as well as students who have varying amounts of sailing experience and may wish to do some racing. Fall is a time when air temps are still relatively warm and so is the water in Sodus Bay. This enables students from within a roughly 30 mile radius of Sodus Bay, who perhaps were not able to attend one of our summer camp programs, or did and just want more time on the water, to learn to sail and build their skills, experience and friendships on the water in an informal and fun environment.
​
No sailing experience necessary

Club atmosphere representing your school

On the water coaching

Scheduled over 4 consecutive weekends beginning Sept 11, 2021
Fall Middle School Sailing
​
Intended for middle and high school students in grades 7-12.
​
Session A Saturday Mornings 9am-12:00
Lunch on your own at 12:00
Session B Saturday Afternoon 1-4:00pm
​
Prerequisite: Middle/HS Student
​
Price: $150 for 4 consecutive weekends
Scholarships are available at registration if needed.
​
Personal Equipment Needed: bring sunscreen, a change of clothes, towel, sunglasses, an outer jacket or sweatshirt, closed toed shoes (sneakers, water shoes, boat shoes, etc) and a lifejacket. As mentioned above, if you don't own a lifejacket, SBJSA will loan you one at no cost.