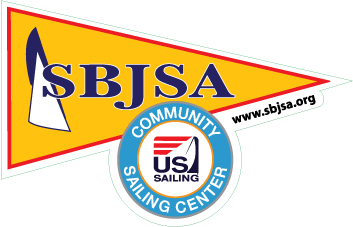 Summer Sailing and more....
SBJSA offers a special 2-day "Intro to Sailing" class that is open to area youth through local Town Recreation Department summer programming. In Town Rec published summer program catalogs from Williamson, Sodus, Newark and other area towns, you'll see our SBJSA "Intro to Sailing" class available and registration instructions are included too. Classes are provided on Monday & Tuesday, as well as Wednesday & Thursday (2 consecutive weekdays) during camp session 4. No prior sailing experience of any kind is needed.
​
Classes will only occur during the week of August 10th . Session 4A is 8/9 & 10 and Session 4B is 8/11 & 8/12.
You'll spend a full 2 days with our experienced, trained instructors who will show you the basics of sailing and give you a taste of what sailing is all about, including lots of time out on-the-water! Unless you're an exceptionally fast learner, you won't be able to sail a boat entirely on your own after completing this class, but you'll certainly get a good idea of whether you like the sport and want to learn more!
Recreation Sailing can be accessed through various town programs or you may just sign up here and indicate your township on the registration form, all are welcome.
​
Follow the link below to register your child in the SBJSA Summer Program. Select your 2-day option.
​
Session A is August 9-10
Session B is August 11-13
​
Prerequisite: None
Ages: Middle/HS Students
​
Price: $140 for 2 Day Camp
​